Written by Jenny Beightol
It doesn't matter what industry you're operating in, competition is fiercer than ever. The Internet has made our world smaller and so connected that even small businesses must compete on a global scale if they want to stand out in a crowded marketplace.
Because of this, one of the most important assets you can leverage has nothing to do with the services you provide or the products you offer.
It comes down to the type of experience you can create for your customers.
This, above all else, is truly the thing that's most unique to your business. Customer experience affects everything within your organization, from how successful your outreach programs are to increases in retention and loyalty and more.
In one recent study, it was revealed that an incredible 86 percent of buyers said that they were willing to pay more for a better customer experience. And by 2020, customer experience will be more important than price and even product when it comes to differentiating one brand from the next.
Furthermore, 66 percent of customers surveyed said that they've switched brands primarily due to a poor customer experience—not a poor product or service.
If you truly want to create an unparalleled customer experience that increases retention, encourages loyalty, and increases revenue, you'll want to ask yourself a few core questions.
Do you fully understand the customer's intent?
If you want to create a true customer experience that will define your brand and drive your efforts, you need to first understand where your customer is coming from—whether that's the devices they're using, to the channels they're on, and even to why they're interested in your brand in the first place.
Take this for example: According to the 2016 Index, 95 percent of all customers use at least three or more channels and devices to resolve a single issue related to customer service. A further 95 percent use up to five.
If they're sending an email on their smartphone, you need to be ready. If they're sending you a tweet or a Facebook message, you need to be ready. No matter what platform your customers use, you need to be there when they reach out to you.
Home Depot discovered that DIY fanatics were turning to their phones to learn about how to build furniture. Furthermore, they were looking to YouTube for their content. So they built a content marketing strategy on the platform, creating valuable how-to videos: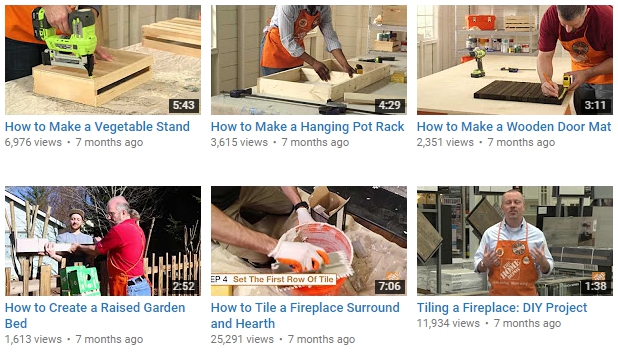 Customer relationship management (CRM) tools can be a great way to create a smart, connected experience across these channels. Not only does it allow for all information about a customer and their issues to be funnelled through a single source that everyone can access, but it also allows you to view historical data as well.
This will allow you to anticipate not just what the consumer wants now, but also the needs and concerns that will arise during and even after their purchase.
Do you know where the buyer is in their journey?
Where a customer is in their journey will affect everything—from the way that you should talk to them to the type of care that they need at essential moments.
The discovery phase is about education, whereas the awareness phase is about showing what you can do for your customer that nobody else can. Consideration and decision phases make the sale, but the language you use here will vary wildly from that which you will use in the discovery phase.
Content that aligns with the awareness phase can come in the form of blog posts, infographics, and videos that educate. Ebooks, whitepapers, and webinars are typically used during the consideration and decision phases.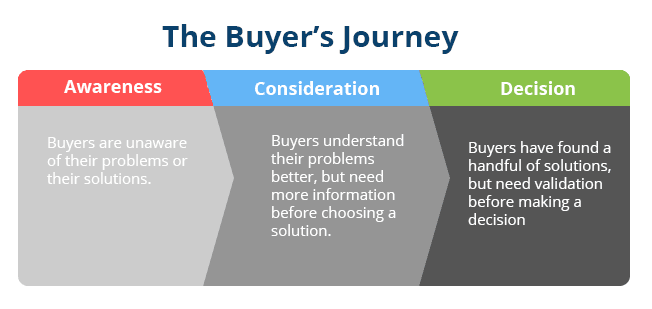 Image courtesy of Ahrefs
You don't just need to know how to properly communicate with customers in general, you need to know how to pivot based on where they are at this precise moment. The importance of this cannot be overstated.
Are you tracking the right retention metrics?
Retention metrics are fantastic resources to tell you not only what you're doing right, but more importantly what you could be doing better.
Focus on where customers are located. Are your efforts using local techniques to their full potential? Do you know which devices your consumers are using? How you interact with users on desktop will be significantly different from your interactions with someone on a smartphone.
Are you aware of the customer's purchase frequency? This will provide you with the type of valuable insight you need to optimize not just the customer experience but also the customer journey, guaranteeing that you're always contacting the right people at the right time, no exceptions.
Is your entire organization aligned around the customer experience?
An old saying tells us that a chain is only as strong as its weakest link. If every department in your organization is not aligned around optimizing the customer experience, all of your other efforts will ultimately mean nothing.
Structure your marketing team around nurturing your consumers as they enter the sales funnel, making their way towards that important purchase. Foster an environment where your customer service and sales teams aren't considered separate at all, but are instead individual parts of a much larger whole.
Your teams must know when a customer should pass from one to the other. In that regard, communication is key. When a customer needs to move from the marketing team to the sales team, they need to do so at the right moment for the best results.
Omnichannel support software will not only help you in these efforts, but will also increase the reliability of your structure as well. Interactions across all channels like email, phone, social media, and live chat will all become one, allowing your customer to receive a single experience regardless of how they choose to make contact at a given moment.
Are you using the right tools to create a personalized experience?
People don't like to feel like they're just "one of many". They like to be treated like the unique individuals they truly are.
Therefore creating personalized customer experiences will go a long way towards increasing both loyalty and retention. Even something as simple as using email automation to send out targeted emails tied back to specific customer actions or at essential moments in the customer journey will let that customer know you don't just care about the sale—you care about them.
Again, omnichannel support software will become essential to meet this goal. Infusionsoft and BLUE are just a few options that will help you centralize your customer communications, streamlining the customer experience, and allow all of your departments to offer personalized interactions, no exceptions.
In the end
These are just a few of the major questions to consider if you want to create amazing customer experiences at your business. Make no mistake: customer experience is the new battleground for marketers in the digital age and factors like these are only going to get more important, not less, as time goes on.
About the author:
Jenny Beightol is the Director of Words & Reputations at Belly, the leading digital loyalty and marketing solution for businesses. Her expertise in brand identity and customer loyalty comes in handy when playing the "Loyal Brands" edition of Trivial Pursuit. Tweet her which brands you love here